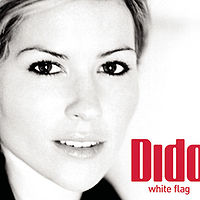 "White Flag" is a song by English singer-songwriter Dido, released as the lead single from her second album Life for Rent on September 2003. "White Flag" is the biggest hit of Dido's career. It is considered one of her signature songs, and helped Life for Rent sell over ten million copies worldwide. The song was nominated for the Best Female Pop Vocal Performance at the 46th Grammy Awards, but lost to Christina Aguilera's "Beautiful". It won the Best British Single at the 2004 Brit Awards. The music video, directed by Joseph Kahn features actor David Boreanaz as Dido's love interest. (Wikipedia)
"Dido" Florian Cloud de Bounevialle Armstrong learned to play several instruments from a young age. Such was her interest in music, that she abandoned a law degree to pursue a musical career.
She had been collaborating with her brother, and his band Faithless, in 1995 and when this sparked interest amongst the musical establishment, she was able to hand them some demo tracks she had recorded.