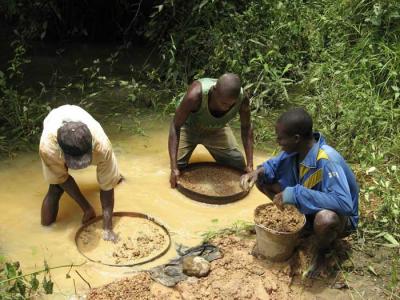 Touching to find diamonds in Sierra Leone
This is the first book I read in English.
My comments on the book:
BLOOD DIAMONDS - Richard MacAndrew -
• Plot: In London journalists Harley Kirkpatrick and Annie Shepherd see their first article published on the front page of the "Daily Post" - four and half million people bought it -.
In Africa some sell diamonds to drugs and work, but others ...
A.Shepherd and H. Kirkpatrick, journalists of the "Daily Post", that Erik Van Delft is chaining diamonds for weapons on the internet. When H. Patrick achieves an interview wiht E. Van Delft, his driver hits him. They relate Erik with Lafon Jewellery, where the owner, S. Lafon is interested to help in the investigation. S. Lafon informs where was Erik´s house. On the beach next to the house, Harry sees the change of weapons (guns) for diamonds. A. Shepherd previusly alerted the police, who already suspected, and they arrest them.
The journalists publish the news, which is now on the first page of their newspaper.

• Characters: Harley Kirkpatrick, Annie Shepherd, Erik Van Delft, Sophie Lafon, Van Delft´s driver, the police, the boat´s man
• Other issues:
- Places: Daily Post, Lafon Jewellery (Hatton Garden-London, Paris, Antwerp), Angola, South Africa, Chartehouse Hotel, house in Devon, Southampton, Beesands, the beach.
- Things: guns, diamons, cars, boats, the baseball bat, bag, ...
• I liked it. I think that is very suited to our level.
• I recommend it for the 1st elementary year

About diamonds still today
Diamonds of War (or blood diamonds) are those diamonds from a war zone and sold, usually clandestinely, to finance the war effort.
In some cases, the United Nations had sanctioned the export of diamonds, arguing that fund armies facing legal governments or involved in serious violations of human rights, thus prolonging the conflict. In particular, drew the Angolan UNITA and the RUF in Sierra Leone diamonds as providers of war.